Merrily We Roll Along :
Giving Props
Posted on: April 5, 2019
How did we get to be here? Props Supervisor Samantha Shoffner spoke to us about her work on Merrily We Roll Along.
Shelf by Shelf
First and foremost, it's about getting the show what it needs for rehearsal like furniture and props the director and cast want to play with, which may or may not make it into the actual show. While I'm working on managing rehearsals, I'm also preparing the set dressing and any "real" items that will take longer to make or find and will come into play closer to tech rehearsals.

[Set Designer] Derek McLane and I had a meeting and went shelf by shelf, coming up with a rough list of types of items that would go on each. As I went along, I had to make sure that each item fit the time period.

Estimating the amount of items needed was most tricky, because I knew we would want options in case we didn't like the way certain things looked or needed a certain size object. So it was about finding the right amount of each type of object without having too much overage, as well as the right amount of variety in color, shape, size, and that would still fit on a shelf in an interesting way like the liquor bottles on risers and hats on hat stands.
---
Sourcing Props
I started by going to some other theaters and prop shops in New York that I have relationships with, and renting items from them, as well as my own prop and furniture stock and Roundabout's stock.

Once I had as much as I could from those sources, I started all the shopping after that based on what we lacked most. Antique shopping was a lot of fun.

---
Playing Favorites
I don't think I could pick just one, they all have their own story! I do have some favorite pieces of set dressing that were real finds when I went antique shopping; they sort of called out to me and I knew we had to have them.

That includes several lighting practicals that I love like a Tiffany glass lamp with colorful floral and geometric shades which you'll see are both fairly prominent, along with the orange fixture and ceiling fan that hang from the grid and some of the vintage toys, including a working toy record player!
Some of the artwork is pretty awesome as well, oil painted landscapes mostly. Even though you can't see many of the pieces that are stacked, I did pick my favorites to be the ones we do see!

There are a handful of things my parents donated from my grandparents' house which are also up there—the TV set that my grandparents had in their living room from the time I was a kid until they passed away, which is pretty special because I have memories sitting on the floor in front of it as a child, and their house was super typical 1960s. It's the largest TV on the set!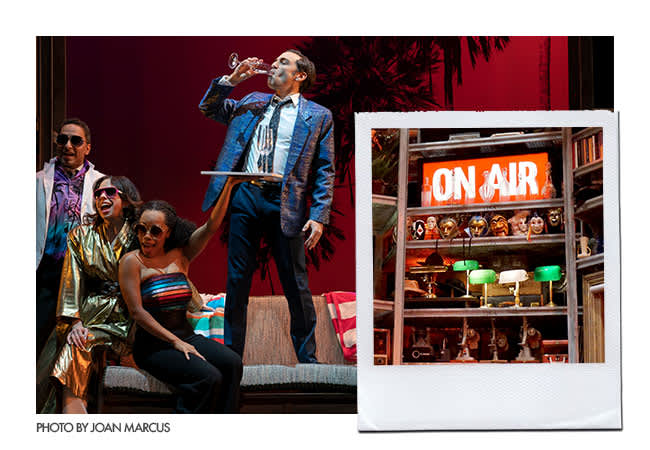 I also have a thing for glassware that looks like glass or crystal but is actually acrylic/plastic, I kind of geek out on it, so there are several of those around, like in front of the ON AIR sign.

---
The Final Tally
When we packed up all the set dressing in large and extra large size boxes, there were over 150 boxes, plus items like furnishings and statues that were loose or just wrapped in blankets and shrink wrap.

By that measurement, I would say that it's likely between 1000-1500 objects, including furniture and hand props used onstage. For some reason that sounds low to me though, so who knows maybe it's more! Maybe I'll count when the show strikes just for the fun of it!
---
Backstage Secrets
The typewriters you hear during songs like "Opening Doors" are actually live typewriters used by the band that I sourced and customized! The sound designer Peter, musical director Alex and I took a little field trip to a typewriter shop in Manhattan (yes those still exist, surprisingly!), called Gramercy Typewriters, and there Jay and Paul let us play on a bunch of different ones to hear the right sounds AND helped us make each typewriter work so that it would be impossible for a key to ever stick when typing that fast to the rhythm of the song.

Also the piano you see onstage was custom gutted and put back together so that it would work and you would see the hammers moving without making sound, since the actual piano playing comes from the band.

I think Merrily is definitely a project that will stick with me for a long time, I really enjoyed putting it all together and I hope everyone enjoys all the props and learning a bit more about how it comes together!