Wine in the Wilderness:
Historical Context
Posted on: May 20, 2021
The Black Power Movement
During the civil rights era of the 1950s and 60s, racially integrated organizations based in Southern churches successfully used nonviolent protest to dismantle the legal framework for racial subjugation in the United States. However, the civil rights movement "expressed no profound concern over the psychological consequences of being black (or white) in a virulently antiblack society" (Ogbar vii). The Black Power movement arose out of a need to address these psychological consequences and fight back against an anti-Black culture.
The Black Power movement, at its most broad and basic, stood for both pride in being Black and self-reliance and self-determination for the Black community. Advocates of Black Power believed that in order to secure human rights, Black Americans should build and control their own institutions. The term first entered the lexicon in 1954, when author Richard Wright published Black Power, a non-fiction book about his trip to the Gold Coast of Africa. The term was also used by the Lowndes County, Alabama Freedom Organization as a slogan for its 1965 political candidates, "Black Power for Black People." It crossed in the mainstream in 1966 when Stokely Carmichael, president of the Student Nonviolent Coordinating Committee, used it as a rallying cry during the Meredith March Against Fear.
Integration or Black Nationalism?
The Black Power Movement emerged from a rich legacy of earlier movements in the Black community and questions of Black American identity. Should Black people fight to be fully integrated into a nation built on white supremacy? Could meaningful liberation be achieved? For organizations like the National Association for the Advancement of Colored People, founded in 1909 by W.E.B. Du Bois and an integrated group of other middle-class Americans, the answer was yes. For other groups, typified by Marcus Garvey's Universal Negro Improvement Association (U.N.I.A), integration was neither possible nor the goal: after years of working toward respectability and then serving valiantly on behalf of the United States in WWI, Black communities were destroyed and Black people murdered in violent race riots across the country between 1917 and 1919. Garvey advocated building an independent nation on the continent of Africa.
Social Class Tensions Within the Black Community
Both integrationist and separatist organizations faced issues of class within the Black community, as they sought acceptance and/or respect from the wider American society. Garvey and his followers ascribed to the belief that living in a white supremacist culture created conditions so detrimental to Black life that the resultant Black folk culture was ignorant and backward. W.E.B. Du Bois saw similar conditions and advocated for a "Talented Tenth" of Black men to put community interests above their own, acquire college educations, and lead the race in the fight for equality. While not his intention, this idea was widely interpreted as elitist. As a Black professional class developed in the United States, traditional markers of social class—exclusive schools, churches, vacation enclaves, and professional organizations—were formed. It was these institutions that gave rise to the canonical civil rights movement of the NAACP, the Southern Christian Leadership Council, and the Student Nonviolent Coordinating Committee, all of which appealed to the Black middle class.

The importance of these elite institutions to their members was heightened by the fact that mainstream American media and popular opinion lumped all Black people together as a monolithic, racialized underclass. This caused tension within the Black community, as Black individuals internalized these portrayals, causing negative self-images, as well disagreement around how to respond to media depictions. Ideas of Black pride and Pan-African cultural pride grew, in part, out of the need to combat these depictions and the realities of life as an oppressed group.
New Influences: The Nation of Islam and the Black Panther Party for Self Defense
By 1964, when Wine in the Wilderness is set, two newer organizations were actively influencing the concept of Black Power: the Nation of Islam and the Black Panther Party. The Nation of Islam (N.O.I.), founded in 1930 by Wallace D. Fard Muhammad, was a religion that held as its core tenet that Black people were the original and perfect expression of humanity, that white people were an evil genetic aberration, and that Islam was the true religion of Black people everywhere. Their cosmology took into account oppressed people of color around the world, introducing an internationalist vision to Black American life. Their rhetoric appealed to many who had witnessed the horrifically violent response to nonviolent civil rights protests. The N.O.I.'s practical teachings emphasized economic self-reliance, self-defense, high moral standards of behavior, and the innate superiority of Black people, messages which spoke especially to those at the lower end of the economic spectrum. They ran counter to the humanistic, Christian, and avowedly nonviolent approach of civil rights leaders like the Rev. Dr. Martin Luther King, Jr. However, both the N.O.I. and most civil rights organizations were patriarchal and emphasized the role of women within the domestic sphere as mothers and keepers of the home, as did the wider American culture at the time.

The Black Panther Party for Self Defense (B.P.P.) was a Marxist-Leninist organization that was founded by working-class men and actively recruited from the most socially and economically marginalized elements of the Black community—men who identified with the streets. Their communal identity was one of machismo, of physical strength in resistance and revolution. Unsurprisingly, sexism was a problem within the B.P.P.
Black Power as Cultural Influence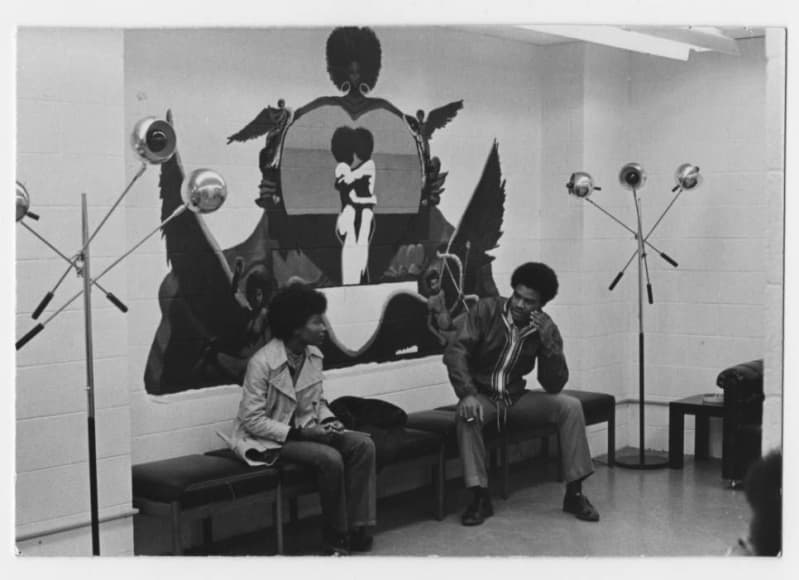 Members of the Neo-Black Society (NBS) of The University of North Carolina at Greensboro, circa 1971; Martha Blakeney Hodges Special Collections and University Archives, UNCG University Libraries
White Americans quickly grew to equate the concept of Black Power with the most militant teachings of the N.O.I.. While statistics make it clear that most Black Americans of the 1960s agreed with the integrationist approach of the Rev. Dr. Martin Luther King, Jr. and his compatriots rather than that of Black nationalists like the N.O.I. and B.P.P., the cultural and aesthetic aspects of Black Power were widely embraced (Torrubia 30). The freedom to determine one's own future via community control of institutions was universally appealing, as was Black pride, which encompassed celebrations of Black and Pan-African culture in addition to disavowing European beauty ideals, artistic styles, and similar conventions. Interestingly, external expressions of Black Power like dashikis and natural hairstyles were more quickly adopted by the Black middle class than by lower income individuals (30).
The Black Arts Movement
The Black Arts Movement was a corollary to the Black Power movement, the '"aesthetic and spiritual sister' of Black Power," according to poet and movement leader Larry Neal (Ogbar viii). It sought for Black Americans to be in control of the narratives and images about them, to create art by and for Black people, and to provide a vision of the liberation sought by those in the Black Power movement. It encompassed all the arts, from the Black Arts Repertory Theatre to individual poets to visual artists.
The 1964 Harlem Race Riots
A crowd chants while protesting along the sidewalk on 125th Street near Seventh Avenue in Harlem; photo by Dick De Marsico; New York World-Telegram and the Sun Newspaper Photograph Collection, Library of Congress.
Wine in the Wilderness is set during the Harlem Race Riots of 1964, a six-day period of protest, violence, and unrest that took place from July 18 - 24, 1964. The event began as a protest march after Officer Thomas Gilligan of the New York Police Department shot and killed James Powell, a Black 15-year-old junior high school student on his way to summer school on Manhattan's Upper East Side on July 16. Powell had gotten into a dispute with a building superintendent named Patrick Lynch, overheard by Gilligan, who was off-duty at the time and intervened. Newspapers reported variously that Lynch had sprayed water on the teenager and used racial slurs, and that Powell had pulled out a pocket knife that he refused to drop. All of these claims were disputed by others present. Gilligan fired three times, and Powell was killed.

The Congress on Racial Equity (CORE) had planned a protest march for July 18 centered on the disappearance of three civil rights activists in Mississippi, but they pivoted their focus to the killing of Powell. The peaceful march turned chaotic as protestors surrounded a police station to demand Gilligan's suspension and bottles rained down on cops from nearby rooftops. Police responded with gunfire, touching off days of protest, clashes, and looting. Related riots broke out in the Bedford Stuyvesant neighborhood of Brooklyn as well as Rochester, New York. By July 24, one person was dead, 100 injured, 450 arrested, and over 200 businesses destroyed. These events are occuring just outside the apartment in which Wine in the Wilderness takes place, contributing to the tension between the characters and the urgency of the action. ♦
Read more: Timeline of Black American Theatre
Read more: Literary Ancestry Essay Series
Read more: Recommended Plays and Further Reading
REFERENCES
Battle, Juan. "W.E.B. Du Bois's Talented Tenth: A Quantitative Assessment. "Journal of Black Studies Volume: 32 Issue 6 (2002) ISSN: 0021-9347 Online ISSN: 1552-4566

Collins, Lisa Gail, and Margo Natalie Crawford. New Thoughts on the Black Arts Movement. Rutgers University Press, 2006.

"Harlem race riot of 1964." Britannica Academic, Encyclopædia Britannica, 15 Jul. 2014.

Jackson, Angela. "Angels and Tricksters: Looking Back at the Black Arts Movement and Measuring Its Impact Now." Chicago Review, vol. 62, no. 4, June 2019, p. 12.

Lee, Henry and Travers, William. "Negro Boy is Slain by Cop; Pupils Riot." New York Daily News, main ed., 17 July 1964, p 2.

Ogbar, Jeffrey O. G.. Black Power: Radical Politics and African American Identity. Vol. Updated edition, Johns Hopkins University Press, 2019.

Staples, Brent. "A Short History of Class Antagonism in the Black Community." The New York Times, 29 May 2005.

Torrubia, Rafael. Black Power and the American People: The Cultural Legacy of Black Radicalism. I.B. Tauris, 2016.