I Gotta Home:
Shirley Graham Du Bois: Brief Life Story
Posted on: May 4, 2021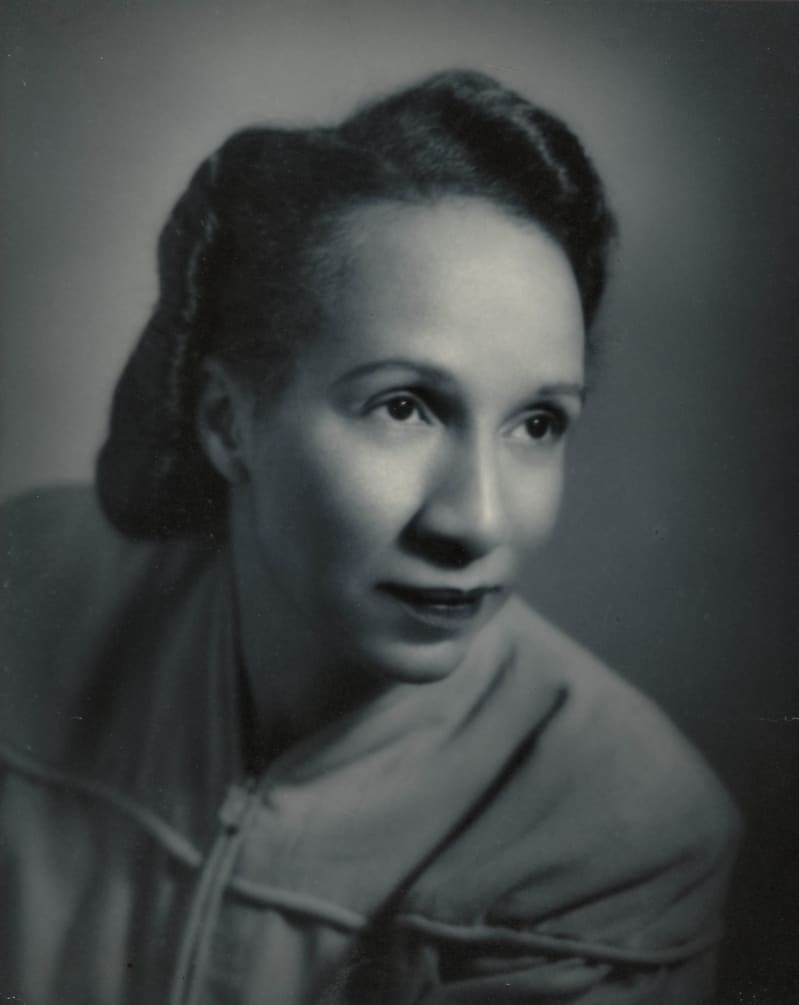 Shirley Graham Du Bois
Shirley Graham Du Bois can rightly be considered a 20th century Renaissance woman in an era when so many doors were closed to women of color in the United States. While she may be most known for her late-in-life marriage to civil rights activist and historian W.E.B. Du Bois, Graham Du Bois advanced civil rights and the arts in multiple countries and authored an opera, numerous plays, and many biographies that illuminated the Black experience in America. She is considered an integral figure in Black theatre and a cherished defender of human rights throughout the world.
Born in 1896 in Indiana to David A. Graham, a minister in the African Methodist Episcopal Church, and Etta Bell Graham, an activist within the church, Graham Du Bois moved with her family often to follow Reverend Graham's postings. Throughout her childhood, she was given early and prolonged exposure to a rich tapestry of communities, a robust education, and a strong tradition of civic activism.
It would come as no surprise, then, that by the time she was 13, she had penned an editorial to a newspaper protesting racial discrimination after she was barred from a swimming pool. Shortly thereafter, she wrote to a local paper to defend her father's presence, and the presence of other African Americans, at a popular Christian revival meeting. These would be among the first of countless times that she would use the written word to combat injustice.
She also became well known at a young age for her musical talent and leadership. While a marriage curtailed her formal education, it did not stop her musical growth and work outside of the home. During a period when she gave birth to two boys, she directed several choirs and quartets, including a group which toured throughout the west coast of the United States in 1928.
After a divorce, Graham sought higher education. She traveled often for her education, attending The Sorbonne in France, Columbia University, Howard University, the Institute of Musical Arts in New York City, and she later received her master's degree in fine arts and music history at Oberlin College in 1935. She also later spent time studying playwriting at Yale University, worked toward her PhD at New York University, and taught at two other institutions.
A prolific writer, she saw the debut of her first major theatrical work, Tom Tom: An Epic of Music and the Negro, while she was still attending Oberlin College in 1932. This ambitious opera, which describes the resiliency by which African culture adapts and survives the trauma of slavery, was viewed in its opening by some 25,000 theater-goers, including the governor of Ohio. Considered to be the first opera by an African-American woman with an all-Black cast, Tom Tom was hailed by critics but did not make it to New York because of the stock market crash later that year.
Graham went on to publish six more plays within the next decade: It's Morning (1937), Coal Dust (1939), Dust to Earth (1940), I Gotta Home (1939), Elijah's Ravens (1940), and Track Thirteen (1940). However, sustained theatrical success proved elusive at least partly because of the difficult economic situation for the arts caused by the Great Depression.
As the United States was drawn inexorably into World War II, Graham Du Bois became the YWCA-USO Director at Fort Huachuca in Arizona in 1941, and she was responsible for providing entertainment opportunities for the thousands of African-American soldiers who were stationed there. After incidents of racial violence at the base, she spoke out to her superiors, and publicly, about the racism and unequal conditions that the soldiers endured. She was fired for her outspokenness and soon took a position as Field Secretary for the National Association for the Advancement of Colored People (NAACP).
It was around this time that Graham Du Bois began to write and publish a series of popular biographies about important figures in African American history and the global struggle for human rights. Her biographies on Frederick Douglas, W.E.B. Du Bois, Phillis Wheatley, Booker T. Washington, Paul Robeson, and Kwame Nkrumah were hailed for making the stories of these important figures accessible to a broad audience of young adults. She also was one of the few African American artists to win a Guggenheim Fellowship, which she used to pursue her biographical work.
Her efforts to chronicle African American luminaries was helped by her personal relationships with many important Black figures in the United States, including W.E.B. Du Bois. The two had been acquainted since Graham Du Bois was a child and corresponded frequently in the course of their shared pursuit of civil rights. The pair married in 1951, and she became an invaluable partner and defender of Du Bois, as both became swept up in the fervor of the Red Scare of the 1950s. Their civil rights work and individual leadership in fledgling third parties made them targets of anti-Communist efforts in the United States.
Because of the sustained persecution the pair faced, they emigrated to Ghana, where W.E.B. Du Bois died in 1963. In Ghana, Graham Du Bois continued to work in the arts and helped create the nation's first television system.
A champion of Pan-Africanism, the effort to encourage and strengthen bonds of solidarity between all indigenous and diaspora ethnic groups of African descent, Graham Du Bois co-founded Freedomways, an influential publication for Black liberation. She attended the Second Summit of the Organization of African Unity (OAU) in Cairo, Egypt in 1964, and became something of a mother figure to many civil rights leaders, including Malcom X, who visited her in Ghana that year. During this era, she also was instrumental in rehabilitating the legacy of W.E.B. Du Bois, after his reputation had been damaged by anti-Communist sentiment.
After civil unrest in Ghana, Graham Du Bois moved to Egypt, where she continued to speak and write about anticolonialism and the cause of Pan-Africanism. She continued to travel the world for speaking engagements until her death from breast cancer in China in 1977. ♦