JOIN ROUNDABOUT YOUTH ENSEMBLE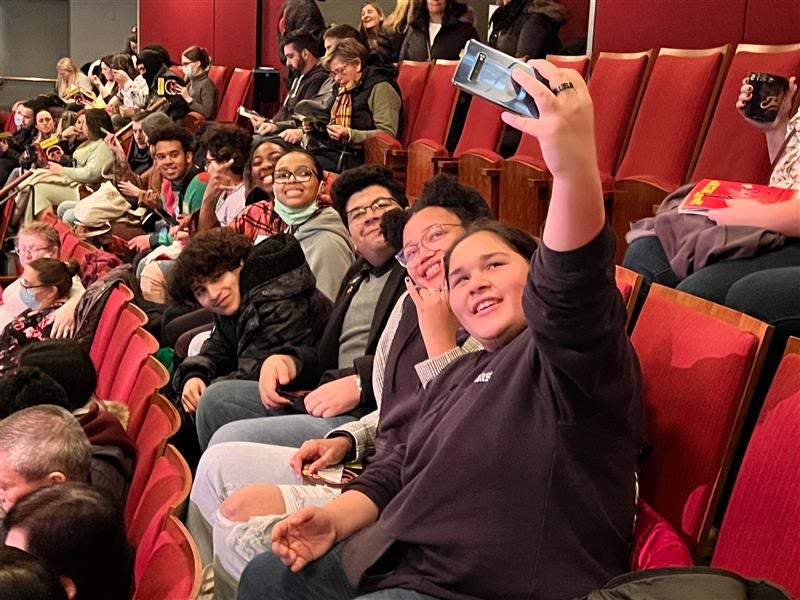 Roundabout Youth Ensemble Fall 2022 Pre-Show (&Juliet)

Roundabout Youth Ensemble (RYE) is a free afterschool and summer program for NYC Public High School students. Facilitated by professional theatre artists, participants will continue to build on their theatre skills while learning how to collaborate, create and reflect with peers and industry professionals.
From February to May 2023, RYE will produce a staged reading of original work created by RYE participants. This summer, one of the original works created this spring will be produced in the Black Box Theatre at the Harold and Miriam Steinberg Center for Theatre.
Seeking creative young artists to audition and interview for:
TECH TEAM:

Explore theatrical disciplines including lighting, costumes, scenery, sound and stage management. Utilize skills learned to design presentations and run technical elements of the staged readings in May.

PERFORMANCE TEAM:

Build acting skills through script analysis, character development, and rehearsal strategies. Perform student-written texts in the staged readings in May.

PLAYWRITING TEAM:

Playwrights will develop, write and revise original works. Excerpts of original work will be presented as staged readings in May.
To join RYE this spring, attend one date of auditions/interviews. No preparation is needed. Each session will have a main focus, but candidates can indicate interest in more than one team!
February 6: Focus on Technical Theatre
February 7: Focus on Performance
February 9: Focus on Playwriting
Additional Details:
No preparation needed for auditions and interviews.
Candidates will indicate interest in one or more teams.
Full commitment to all listed dates is required.
All sessions will take place in midtown Manhattan.
Metrocards and snacks provided.
Program Dates:
EVERYONE will attend Ensemble Days and staged playwright readings. Metrocards and dinner provided.
February 17, 4:30pm- 10:00pm, Ensemble Day
March 24, 4:30pm-10:00pm, Ensemble Day
May 18, 4:30pm – 6:30pm, Playwright Reading Rehearsal
May 19, 4:30pm- 10:00pm, Ensemble Day
May 22, 4:30pm- 8:30pm, Playwright Reading Presentation
May 23, 4:30pm- 6:30pm, Celebration
TECH TEAM
Meets Mondays 4:30pm - 6:30pm:
February 13, 27
March 6, 13, 20, 27
April 3, 17, 24
May 1, 8, 15
PERFORMANCE TEAM
Meets Tuesdays 4:30pm - 6:30pm:
February 14, 28
March 7, 14, 21, 28
April 4, 18, 25
May 2, 9, 16
PLAYWRITING TEAM
Meets Thursdays 4:30pm - 6:30pm:
February 16
March 2, 9, 16, 23, 30
April 6, 20, 27
May 4, 11, 18
"SPOTLIGHT ON" WORKSHOPS:
Note: Anyone interested in a Summer Leadership position must participate in a spring team and complete both "spotlight on" workshops. Each "spotlight on" workshop will be offered twice.
Theatre Marketing: Friday March 31, Friday May 5
Leadership Skills: Friday March 17, Friday April 28
If you have any questions, please email RYE@roundabouttheatre.org.
---
Roundabout Youth Ensemble is supported, in part, by the Elroy and Terry Krumholz Foundation. This program is supported, in part, by public funds from the New York City Department of Cultural Affairs in partnership with the City Council.