Kiss Me, Kate:
Interview with Corbin Bleu
Posted on: April 22, 2019
Education Dramaturg Ted Sod spoke with Corbin Bleu about his work on Kiss Me, Kate.
Ted Sod: Where did you get your education and training?
Corbin Bleu: I started my dance training when I was two. They gave me my first pair of tap shoes, and I just fell in love. I was a Ford model when I was three, and I was cast in my first off-Broadway production when I was six. A lot of my training has been through experience over the years. I've been able to work with so many incredible performers. I ended up going to Debbie Allen Dance Academy, where I studied every form of dance you can think of. Then I went to LA County High School of the Arts, and I was part of the theatre department there. My junior year of high school, I was accepted into Stanford University thinking I would study psychology, but that was the same year that I booked High School Musical. High School Musical just propelled my career to another level, and I found myself working a lot more.
TS: What kind of discipline or routine does it take to stay in shape as a musical theatre performer?
CB: Sleep is key. Mondays are usually our dark days on Broadway, and I keep those sacred. I usually just stay in and I rest. I don't talk. As it is, even when I'm not doing a show, I sleep a lot. As far as food goes, my wife and I cook 99% of our meals. I know what I'm putting in my body. I drink a lot of water. That's pretty much all I drink all day long. And I have a green apple before every single show. I do that because they're healthy for you, and it also helps me with my diction and energy.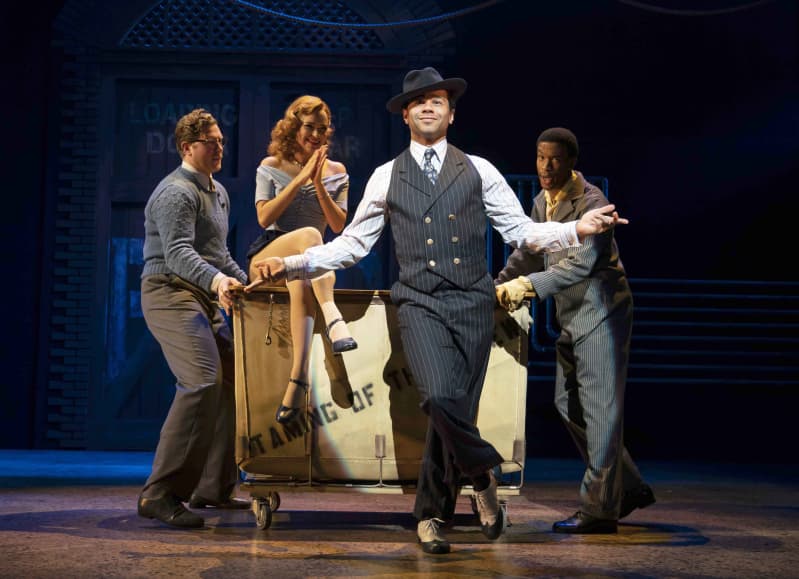 TS: What made you want to play the role of Bill Calhoun in Kiss Me, Kate?
CB: There are a lot of factors. First, I had the most marvelous time working with the Roundabout Theatre Company the last time I was here, doing Holiday Inn. When I found out Scott Ellis, whom I had worked with on Holiday Inn and I adore, was going to be directing, I knew I wanted to work with him. And Warren Carlyle is the choreographer. He is such a force in the tap world. For me, dance has always been number one, and knowing that I was going to be working under Warren's choreography was a huge part of my decision. Also, the character of Bill is a dancer, and I get to perform one of the iconic dance numbers, and the thought of that just tickled me like nothing else. Kiss Me, Kate is one of the beautiful, classic, American musicals. That is a genre I love and I seem to work well in. After Holiday Inn, I ended up doing Singin' in the Rain, and I'm currently playing Billy Crocker in Anything Goes, another Cole Porter musical, at the Arena Stage in D.C.
TS: What kind of preparation are you doing?
CB: By the time I get back to New York, I will have done Anything Goes for three months, so I feel like this production has been a part of the preparation for getting into Kiss Me, Kate. I will watch the film version, and I absolutely will be diving into The Taming of the Shrew. When I was doing Holiday Inn, in the role originated by Fred Astaire, and Singin' in the Rain, playing the role originated by Gene Kelly, I was constantly being asked questions like, "Aren't those huge shoes to fill? What are you going to do to stand up to those guys?" And I always said the same thing: "I am not them. I am me." I have learned that there is a specific essence that those iconic performers brought to their characters, and I will do my best to find out what that is. But at the end of the day, it's going to be my interpretation of that character, and it's going to be based on what we find in the rehearsal room. I'm looking forward to the discoveries we make and creating something new.
TS: Bill is a bit of a sketchy individual. Would you agree? And if so, how do you connect to this character?
CB: I appreciate that you see me as a healthy person, and I am. I do my best to be. But I've gone through my own things and lived many lives, and there are aspects of me that I know will inform Bill Calhoun's character. I think with the element of his gambling addiction, I am going to want to find what that dark side is within him, what compels him to do it. I know he has many redeeming qualities, too, especially with Lois. People like Bill have to be charming or they wouldn't be able to get away unscathed with the things they do.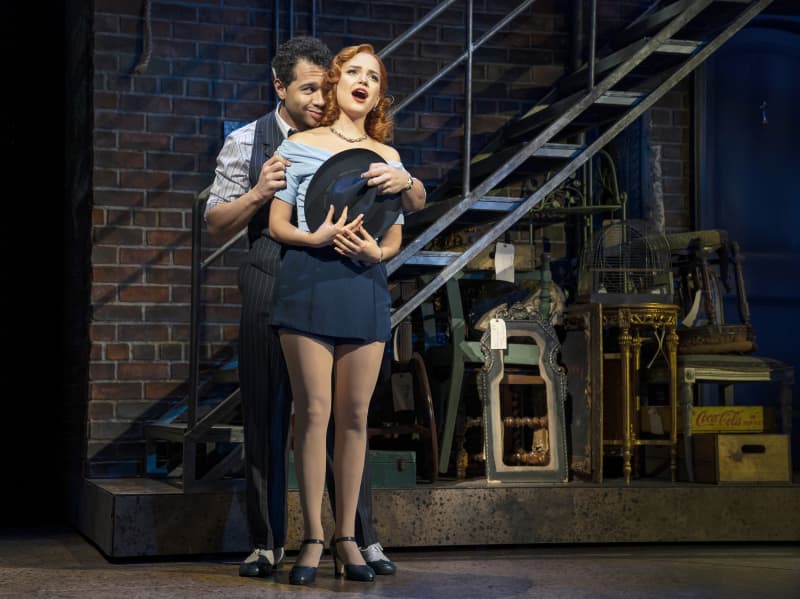 TS: What do you think is going on between Lois and Bill? Does he really love her?
CB: I think he does love her "in his fashion," but he might also not truly know what the meaning of love is. I think it is absolutely possible to love someone and not be able to treat them with love.
TS: Tell us a bit about what you look for from your collaboration with the director and choreographer?
CB: I'm always really looking for specificity. I love when a choreographer is able to tell me exactly what it is that they want. I try to interpret that and give that to them as we collaborate and find it together. What drives me nuts is when we're doing a tap move, say a toe/toe/heel/heel and I ask, "Do you want me to drop the right or the left heel?" And they say, "Doesn't matter, just do any one." Especially in group numbers, whenever there isn't specificity, that's when it ends up looking a bit sloppy. Don't misunderstand me, I don't go into rehearsals expecting the creative team to work in a certain way, but specificity means a lot to me. Perhaps because I am a Type A personality. I have already experienced working with Scott when we were talking about scenes and character during Holiday Inn. I already know his style to a certain extent, so I'm looking forward to experiencing his depth of knowledge again. I'm very happy that I'm working with a creative team filled with talented and intelligent heavy hitters.
TS: What about the music director?
CB: They are very important, especially with Cole Porter. Porter's music has wit and complexity. I think it's going to be that same aspect of specificity I mentioned earlier, in understanding what the words mean and how they pertain to what's happening on stage. Porter uses words that aren't being used much these days. He was a pioneer in pushing boundaries. He wasn't afraid to stir the pot.
TS: Do you consider the score of Kiss Me, Kate to be part of the American Songbook? What do you think is the modern audience's attraction to it?
CB: I definitely think Cole Porter's work is part of the American Songbook. There is always a levity I feel when I listen to these great American classics. It's hard to describe. It's almost ethereal. Every time I listen to the songs of that era, I feel as if I'm in a dream. I think part of the dream is being able to escape. There are elements of our modern times that are difficult to face, and I think audiences love being able to walk into the theatre and spend two-and-a-half hours experiencing joy. I think it is a reprieve for most people. I think it's dangerous to run away from your problems, but I also do not think it's healthy to live in that muck 24/7. You need time to rest, and the American Songbook gives us that.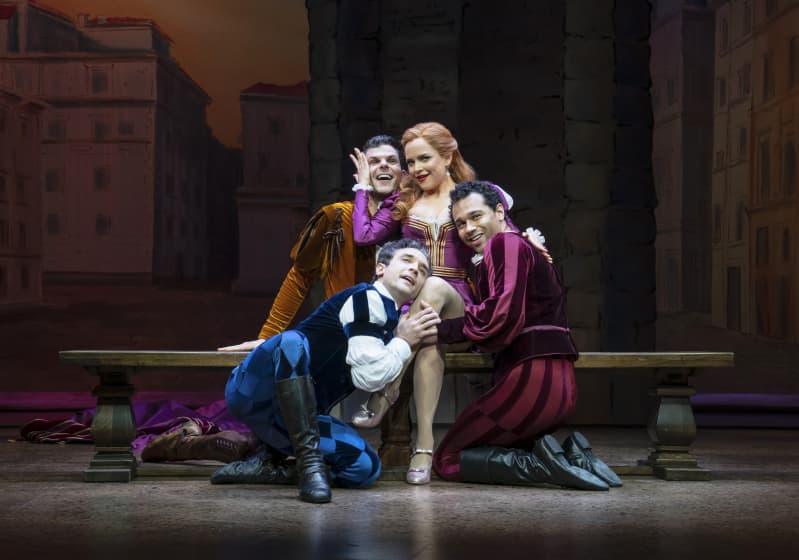 TS: Is diversity in casting important to you?
CB: It's very important to me. I think the issue of diversity is something we all need to continue working at and talking about. We won't make progress unless we keep it at the forefront of our minds. I don't think every single project has to cast a certain quota of black people, or Asian people, or Latino people, because when you approach it that way, it just becomes obvious. I do think that when you look at the talent in our community, it is varied from race to race and color to color, and because that variation reflects who lives in the country, it makes sense to cast a talented and diverse cast. I grew up watching all the old musical films, and there weren't really people who looked like me playing the leads in them. I wondered what it would've been like if somebody like me was playing those roles. Now that I am getting to play some of these roles onstage, I hope there are kids of color who are seeing these shows, seeing someone who looks like them and perhaps thinking that they can do it, too.
TS: Do you have any advice for young people who say they want to be in the acting profession?
CB: It's hard work, and you have to remember that. Continue reading, continue learning, and don't forget that part of our job is to play other people, to live the lives of others onstage. If you don't allow yourself everything that life has to offer, you are cutting yourself short. You need to live life fully in order to understand who these people you are attempting to play really are. I acted in a film entitled Sugar, and I played a guy who was on the spectrum and was homeless. The director wrote the project based on his own personal experience. I spent a few nights sleeping outside among that community. So many of them came from families who shunned them for various reasons. They didn't have any support system and found a new family of sorts on the streets. Because of that experience, I found myself understanding aspects of human life that I never would have understood otherwise.
Also, don't forget to have fun. Acting is perfect yin and yang, a perfect balance of hard work and play. The second you start to view it solely as work or as a grind, you will lose all the joy that's in it.
Kiss Me, Kate is now playing at Studio 54 through June 30 only. For tickets, please visit roundabouttheatre.org.