Merrily's Myriad Forms
Posted on: April 4, 2019
For nearly four decades, Merrily We Roll Along has undergone many revisions, revivals, and rewrites, with each production seeking to succinctly capture the ephemeral magic and heartbreak its creators imbued it with. Here's a backwards glance at Merrily's trajectory.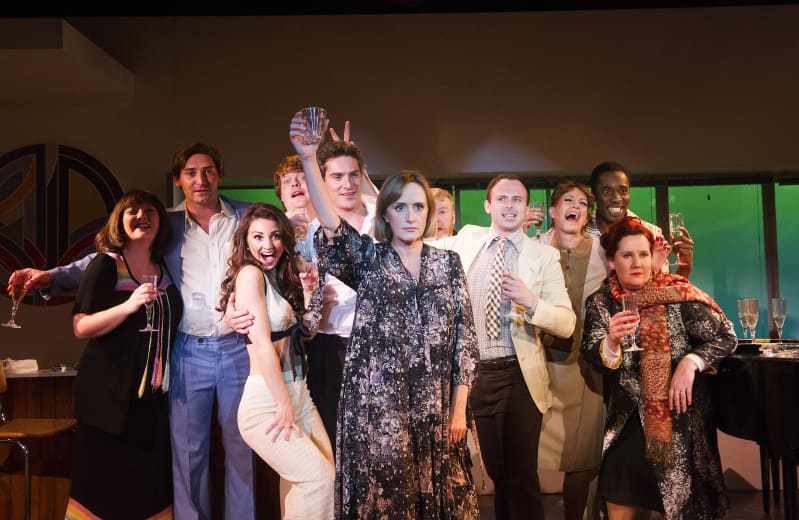 Menier Chocolate Factory (2012)
This London production of Merrily, lauded by Stephen Sondheim as "the best [he'd] seen" at that time, was a critical and commercial smash. The cast included Damian Humbley as Charley, Jenna Russell as Mary, and Mark Umbers as Frank, and it focused tightly on the interpersonal relationships between the three. In her directorial debut, Maria Friedman led this production from a sold-out run at the Menier Chocolate Factory to a transfer to the West End's Harold Pinter Theatre, receiving more five-star reviews than any other musical in West End history. Acclaimed for its heightened drama, incredible stakes, and stunningly personal performances, this production, wrote Guardian critic Michael Billington, "[made] you wonder how anyone could ever have doubted its quality."
Encores! (2012)
New York City Center's Encores! series featured a staged concert of Merrily We Roll Along, with the roles of Charley, Mary, and Frank performed by Lin-Manuel Miranda, Celia Keenan-Bolger, and Colin Donnell, respectively. Directed by James Lapine, this concert was mindful of Merrily's history and borrowed revisions, cuts, and additions from its 1994, 1990, and 1985 productions. Ben Brantley suggested in the New York Times that this was a Merrily "trapped in time" and elaborated, "It has the air of something overexplaining—and apologizing for—its own flaws." After 30 years of the reworking since the original production, the show still seemed to be, according to Time Out New York, "an unsolved musical-theater puzzler."
Donmar Warehouse (2000)
The show had its West End debut 12 years earlier, with a production helmed by director Michael Grandage and featuring Daniel Evans, Samantha Spiro, and Julian Ovenden as Charley, Mary, and Frank, respectively. Noted for its restoration of the stirring graduation song "Hills of Tomorrow" (cut from previous productions), this Merrily continued the tradition of working to redeem what reviewer Matt Wolf phrased as "the bitter yet ravishing beauty of that short-lived Broadway entry." The production received the Olivier Award for Best Musical that year, as well as performance awards for both Evans and Spiro.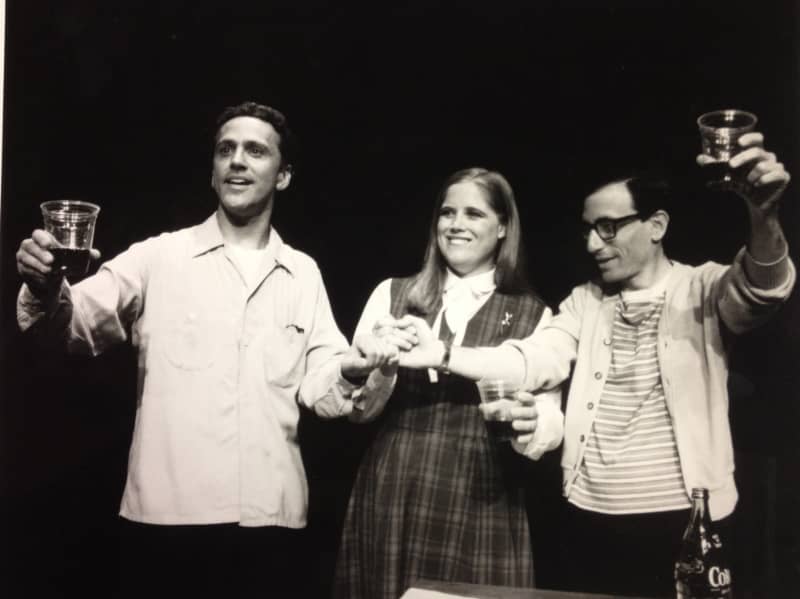 La Jolla Playhouse (1985)
Far from the pressures and scrutiny of Broadway, La Jolla Playhouse served as a safe harbor for Sondheim and Furth to return to Merrily after its initial Broadway failure and make the first of many attempts to make the show succeed. Directed by James Lapine, the production ran for 24 performances and featured Chip Zien, Heather MacRae, and John Rubinstein as Charley, Mary, and Frank. Furth streamlined the book, and Sondheim added and restored songs in this version (including "Growing Up" and "It's a Hit"), while cutting others. Sylvie Drake of the LA Times still found it "lumbering" but felt there was enough good in the show to merit the attempt: "one must hope that the work can and will continue."
Original Broadway Production (1981)
Opening on November 16, 1981 at the Alvin Theatre, Sondheim and Furth's musical version of George S. Kaufman and Moss Hart's 1934 play of the same title began its life in what may be the most torrid and turbulent manner in Broadway history. The production faced harsh judgement due to a libretto seen as "empty" when compared to Sondheim's score, a young cast so difficult to track that their characters had to have their names affixed to their clothes, and critics excited to see America's theatrical giants finally suffer a misstep. Under the direction of Harold Prince, featuring Lonny Price, Ann Morrison, and Jim Walton, Merrily spluttered to an end after only 16 performances, leaving "hearts broken" and heads shaking, wrote Frank Rich for the New York Times.
Original Play (1934)
On a trip from Hollywood to New York in 1931 (during the Great Depression), playwright Moss Hart found himself reflecting on the difficulties of life in early 20th century America; inspired by the country's success, ambition, and ruin, Hart sought to write a story that mirrored it. Collaborating with George S. Kaufman, Merrily We Roll Along told the story of a young playwright who loses as much as he gains as his career advances. In a stroke of inspiration, Kaufman and Hart decided to tell this story in reverse, moving from the protagonist's lonely adulthood backwards to his college graduation day, highlighting just how drastically his circumstances changed. While some responded negatively to this time-warping "gimmick," Time considered the production "superbly staged…superbly acted." Featuring a large cast of 91 actors, the production ran for 155 performances.
Merrily We Roll Along is now playing at the Laura Pels Theatre through April 14th. For tickets, please visit roundabouttheatre.org.