True West:
The Faces of Sam Shepard
Posted on: February 5, 2019
The Farmer's Son
Born in Illinois in 1943, Samuel Shepard Rogers III (known as Steve Rogers as boy) was the son of a former Army pilot and a teacher. His family moved frequently and eventually settled on an avocado farm in Duarte, California, a small town 25 miles east of Los Angeles. Duarte would become the suburb where True West takes place. Shepard's father became more alcoholic and nomadic, like the absent father that hovers over True West and other Shepard plays. Shepard worked as a stablehand, orange picker, and sheep shearer while attending Duarte High School, then studied agriculture at nearby Mt. San Antonio junior college. But he dropped out of school to join a travelling theatre group, which allowed him to see the country; after the tour, he moved to New York.
Rock and Roll Playwright
In New York, 19-year-old Shepard found inspiration in rock, jazz, and Samuel Beckett's plays. He worked as a waiter at the Village Gate nightclub, shared an apartment with the son of jazz legend Charles Mingus, wrote songs with John Cale and Bob Dylan, and played drums for a rock group called The Holy Modal Rounders. Reflecting on this time, he later told an interviewer: "I got into writing plays because I had nothing else to do. So I started writing to keep from going off the deep end." In 1964, his first play Cowboys received a favorable review from The Village Voice and launched his theatre career. Informed by Jackson Pollock's abstract expressionism and science fiction, his early plays were poetic and hallucinogenic, often incorporating rock and jazz music. He worked in experimental downtown spaces such as La Mama, Cafe Cino, and the Open Theatre, winning six Obie (off-Broadway) Awards over the next few years. In 1969 he married actress and musician O-Lan Jones, and they remained married until 1983. His passion remained divided between theatre and music, and in 1975 Shepard joined a group of musicians (including Joni Mitchell and Joan Baez) to tour with Dylan's Rolling Thunder Road.
Playwright-in-Residence
Theatre ultimately won out when Shepard opted to settle in San Francisco as playwright-in-residence at the Magic Theatre in 1975. Over the next 10 years, he wrote his most seminal plays, including Fool for Love, True West, and Buried Child. Shepard recalled his father coming to a performance of the latter play and berating the actors on stage. "He took it personally and he was drunk...he was kicked out and then was readmitted once he confessed to being my father. And then he started yelling at the actors again." By the mid-1980s, as he reached his forties, Shepard was the second most widely-performed American playwright after Tennessee Williams.
The Intrepid Artist-Cowboy
In addition to play-writing, Shepard had a successful career as an actor. His first film role was as a dying farmer in Days of Heaven (1978). His breakthrough came playing Chuck Yeager, the first pilot to fly at supersonic speed, in The Right Stuff (1983). Biographer John J. Winters wrote that this role established Shepard's on-screen persona as "the intrepid artist-cowboy of popular imagination," which would blur with his writing. Other notable movies include Baby Boom (1987), Steel Magnolias (1989), and the Ethan Hawke Hamlet (2000) in which he played Hamlet's father. He was last seen as the family patriarch in the 2017 Netflix series "Bloodline." He also wrote several screenplays, including Wim Wenders's Paris, Texas (1984 Cannes Film Festival Winner) and Silent Tongue (1994), a Western that he also directed. You can see a preview here.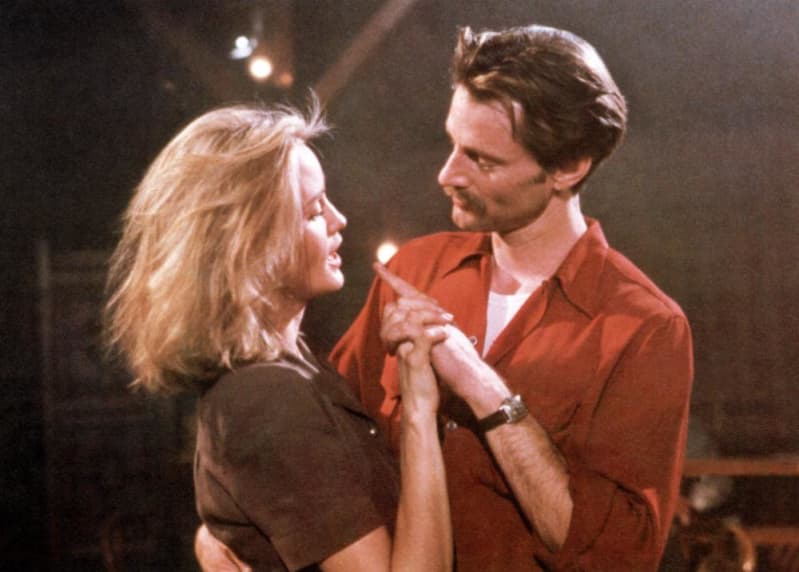 A Western Sunset
In 2000, Shephard bought a small farm in Kentucky, where he raised horses, continued writing, and enjoyed a low-profile life. His last plays were seen in 2012 and 2014 at New York's Signature Theatre, where he is a "Legacy Playwright." (Curse of the Starving Class is slated for revival at Signature in spring 2019). Shepard died in 2017 from complications of amyotrophic lateral sclerosis (ALS), or Lou Gehrig's disease. He left behind more than 55 plays, two collections of short stories, and a novel. Loretta Greco, the Magic Theatre's current Artistic Director, remarked: "His timeless impact is indelible in every new script that lands on my desk to this day; his blood is coursing through generations of playwriting." You can learn more about Shepard and his life from this tribute.