Toni Stone:
Discovering a Role
Posted on: May 29, 2019
On May 23, Toni Stone, the first female player in the Negro Leagues, took center stage as Roundabout's new play about her life started performances. Even though she literally made history, Toni Stone is a name that everyone should know, but unfortunately does not.
Voted one of the best players you've never heard of, getting into character to portray Toni could be quite a challenge as her story is complex. She started playing second base when she was a little girl and started on a path to the Negro Leagues. Obie Award winning actress April Matthis has stepped up to the plate. To better understand the world that Toni lived in, the cast and crew went on two field trips to get a deeper understanding of what life would have been like and how the game itself is played.
Thanks to the lead sponsor, the MLB-MLBPA Youth Development Foundation, a joint initiative by Major League Baseball and the Major League Baseball Players Association, on April 26, the cast and creatives of Toni Stone including playwright Lydia R. Diamond and director Pam MacKinnon visited the home of the New York Mets, Citi Field, to learn more about the physicality of baseball. Robinson Canó, second baseman for the Mets, stopped by to chat with the cast and share what it's like to play second base so April Matthis could get a better idea of what Toni would have been required to do. The visiting team, the Milwaukee Brewers, even got in on the fun as their pitcher Jeremy Jeffress took a moment to show Jonathan Burke how to throw a fastball.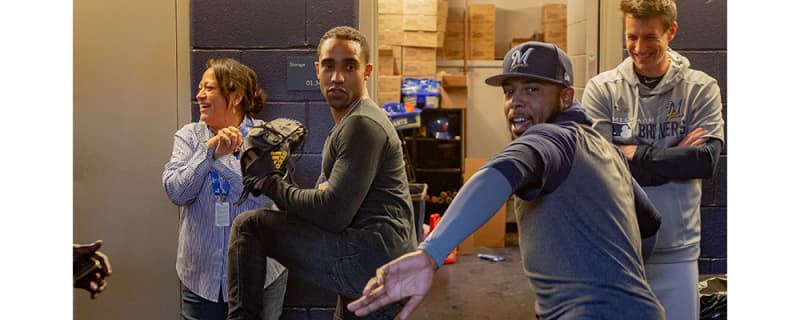 "What I got from meeting both Robinson Canó and Frank Williams at the Negro League Museum was the economy of movement and focus. Williams told me, "Catch the ball before you throw it." We laughed because it sounded so simple, but I think it's that laser focus that Toni describes in the play and what makes good athletes great."

— April Matthis
After an exciting visit at Citi Field, Lydia Diamond, Pam MacKinnon, April Matthis, and several other cast members flew to Kansas City, MO to visit the Negro Leagues Baseball Museum and learn more about the Negro Leagues as research for the production. The cast and creative team were greeted by Bob Kendrick, the Executive Director of the museum who showed off its extensive collection, including artifacts from Toni Stone herself.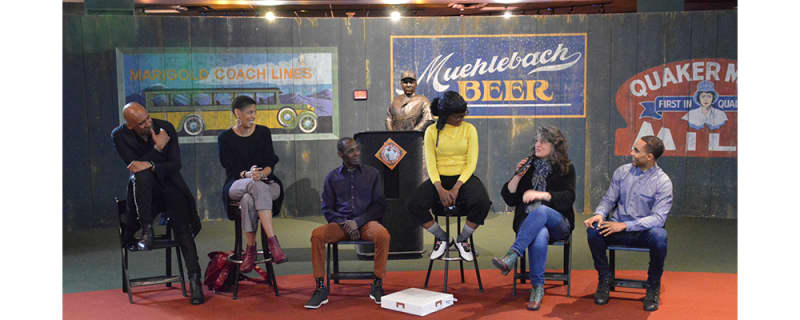 Beyond the objects in the museum, they were treated to a virtual history lesson from one of the greatest raconteurs in Mr. Kendrick. He relayed stories not just of Toni and her teammates, but the import of the Negro Leagues and how something as ugly as segregation and oppression could spawn something beautiful and artistic. Walking through the museum and hearing the stories of Satchel Paige, Buck O'Neil, Hank Aaron, Oscar Charleston and myriad others was inspiring, and highlighted the black experience and where Toni Stone lived on the continuum. 5-time All Star and 8-time Golden Glove second baseman Frank White also joined the cast for a chat about his experiences playing pro ball. In a 360-degree educational experience, the cast and creative team then participated in a Q&A with local students from the University Academy followed by a classic Kansas City BBQ lunch.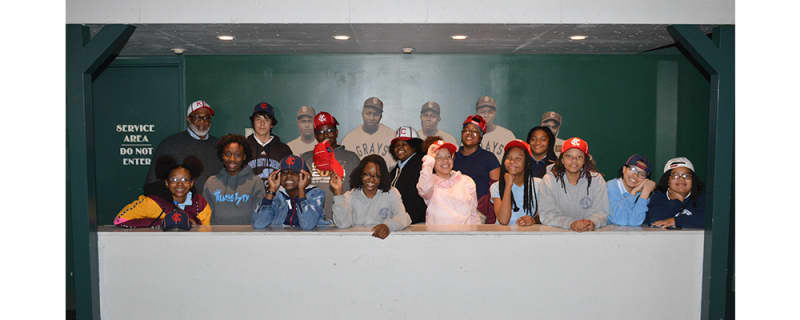 With both field trips, the cast and creative team were able to do a deep dive into the life of an incredible athlete who history has all but forgotten. Now it's your turn to know her name. Performances begin May 23 at the Laura Pels Theatre at the Harold and Miriam Steinberg Center. We are grateful to Major League Baseball, Major League Baseball Players Association, Bob Kendrick and the Negro Leagues Baseball Museum for all the support.
Find

Tickets

Use our flexible filter to find shows and showtimes that work for you