Merrily We Roll Along :
Stephen Sondheim and His Musicals
Posted on: February 5, 2019
With 16 original Broadway musicals, plus four Broadway revues, Stephen Sondheim (born March 22, 1930 in New York City) is one of the greatest musical theatre composer/lyricists of all time. Sondheim's growth from a young writer to one of the foremost innovators of the American theatre can be traced through his canon of musicals
A Musical Education
Sondheim's musical career began in high school, during which time he apprenticed with Oscar Hammerstein II, the legendary lyricist and dramatist who, with composer Richard Rodgers, created Oklahoma!, Carousel, and The Sound of Music, to name just a few. Hammerstein, a family friend who became a surrogate father to Sondheim, taught Sondheim the basics of musical form.
Early Professional Years
Sondheim's first musical, Saturday Night, was slated for a 1955 Broadway run, but the project fell through, and the show was not produced until 1997. The show got Sondheim noticed, however, by dramatist Arthur Laurents, composer Leonard Bernstein, and director Jerome Robbins, who were collaborating on West Side Story (1957). Sondheim was hired as their lyricist, and the show's runaway success led to his next collaboration with Laurents, writing the lyrics for Gypsy (1959) alongside composer Jule Styne.
Sondheim finally got to work as both lyricist and composer on A Funny Thing Happened on the Way to the Forum (1962) and Anyone Can Whistle (1964). Forum would be the greater commercial success, but in Anyone Can Whistle he first employed the art of "pastiche"—parodying various musical theatre conventions and genres to bring different characters to life—which he would later come to master.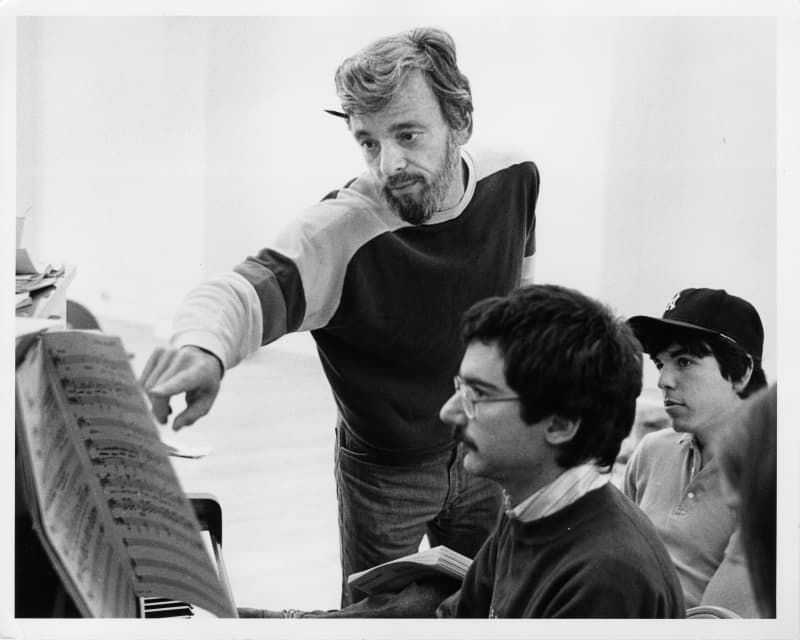 The Harold Prince Decade
In the late 1960s, director Harold Prince approached Sondheim with an idea to combine 11 short plays by playwright George Furth into a single musical, which would be nontraditional in form and plot. The result was Company (1970), the first in a long line of Sondheim-Prince hits, including Follies (1971), A Little Night Music (1973), Pacific Overtures (1976), and Sweeney Todd (1979). These complex shows rejected traditional Broadway plot structures, used songs to advance themes or ideas (in addition to plot), and explored the darkness and disillusionment of American life. However, after the failure of Merrily We Roll Along, Sondheim and Prince did not work together again for many years.
"Merrily We Roll Along was written in 1980, but the story...concerns two songwriters who came to their maturity in the 1950s, when traditional song forms still ruled the stage; it seemed appropriate, therefore, that it should be told as much as possible in a series of 32-bar songs. I knew this would make the score sound anachronistic; in fact, I hoped it would... the musical and theatrical language of Broadway had evolved considerably, but I hoped to write the score… as if I still believed in those conventional forms as enthusiastically as I had 25 years earlier, before I and my generation had stretched them almost out of recognition."

— Stephen Sondheim
Collaborations with James Lapine
In 1982, Sondheim teamed up with James Lapine, a playwright and director who primarily worked off-Broadway. Drawing inspiration from French painter Georges Seurat, the duo wrote Sunday in the Park with George (1984), which won the Pulitzer Prize. They followed this success with Into the Woods (1987), a modern interpretation of several fairy tales. Sondheim has said his musicals with Lapine were written with more "formal looseness" than were those with Prince, "allowing songs to become fragmentary, like musicalized snatches of dialogue" and making way for "a current of vulnerability, of longing" to enter his work. The Lapine collaborations were often presented in lower-stakes, off-Broadway venues, prior to Broadway. Sondheim collaborated with book writer John Weidman on Assassins (1990), which, in its unconventional plot structure and its off-Broadway run, reflected the influences of both Prince and Lapine. Sondheim worked with Lapine again on Passion (1994), his most operatic score to date.
Recent Projects
Sondheim's next show with Weidman, based on the lives of two legendary turn-of-the-century brothers, Wilson and Addison Mizner, was produced in three different iterations: first as Wise Guys at New York Theatre Workshop (1999); then as Bounce in Chicago (2003); and finally as Road Show at The Public (2008). In total, this project's extensive developmental process -- involving four distinctly different versions of the script and three directors over 14 years -- echoed the decades-long evolution of Merrily. Though Sondheim was satisfied with the end result, the show did not find popular success.
Sondheim is currently collaborating with playwright David Ives on a musical based on the films of Spanish director Luis Buñuel. Meanwhile, his work continues to be revised and reimagined at theatres across the country. Though his canon is still growing, Sondheim has ensured his legacy as a revolutionary of the American theatre.
Merrily We Roll Along is now playing the at the Laura Pels Theatre through April 7th. For tickets, please visit roundabouttheatre.org.