True West:
Present in the Past: A Modern Rake
Posted on: March 1, 2019
In the not so distant past, theatre buildings were constructed with permanently raked playing spaces. While this cleared up sightlines, it presented a whole slew of new problems — performer safety for one, and the fact that every surface intended to be level, tables and chairs for example, had to be constructed with a custom "counter rake" to correct the angle of the floor for another. Both of these concerns come with higher price tags: actors may need additional rehearsal time, props and set elements constructed for that show are likely unusable in future productions, not to mention you're building a floor on top of a floor (arguably a bit redundant). This raises the question: if cluttered sightlines have been mostly eliminated by "stadium style" auditoriums that angle the audience seating banks instead of the stage, why do rakes persist into theatre design today?
The fact is that there are as many reasons to build a raked deck on top of a stage, like Scapin and Rashomon, as there are plays and designers to build them. Especially when dealing with revivals, a designer or director may want to highlight a certain thematic element of the story with a rake as a way to shed new light on the work and distinguish the production from its original run. Even with stadium style seating, action that happens on the floor of the stage can still be obscured without a rake.
But asking this question: why go out of your way to build a rake — or for that matter, any particular design choice, is at the heart of this series. You have an opportunity to do just that at Roundabout's current production of Sam Shepard's True West. In the incredibly talented hands of Mimi Lien, Tony Award and MacArthur Fellowship winning designer, the rake becomes another bully onstage. Sitting in the orchestra, you feel as if the play – Lee and Austin, the mess of beer cans, the pent-up rage and helplessness – are all about to come tumbling off the stage, slide squarely into your lap, and make themselves your problem. There is an insidious feeling lurking just beneath the surface of apparent tranquil domesticity. The floor teetering into the topsy-turvy is just one element of the surreal atmosphere echoed throughout the design, a hint that the play is about more than two brothers.
Incidentally (or perhaps not), Roundabout's production of The Humans, set design by another Tony award –winning artist, David Zinn, also included a rake. But this one, rather than rising from downstage to upstage, descends from its highest point on house left, to the couch against the wall on house right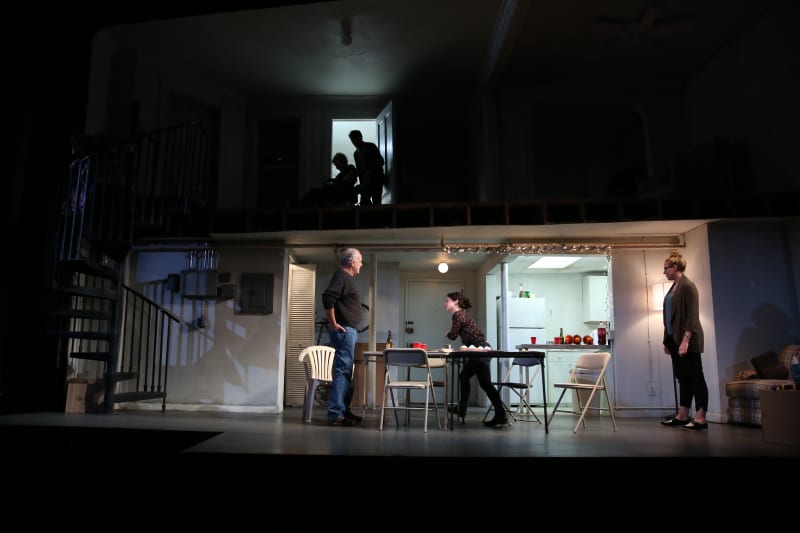 Both designers are looking for ways to plant the idea that the deck is stacked, the view is slanted, or to take the metaphor to its ultimate conclusion: these characters aren't meeting each other on level ground — notwithstanding the fact that there are probably many New York basement apartments with a slight slant. In Zinn's own words, his set creates a world "where it seems just remotely possible that the architecture itself isn't so happy you're there. Familiarity and Unease, I guess, is what we've been after."
True West is now playing at the American Airlines Theatre through March 17 only. For tickets, visit roundabouttheatre.org. Photos by Joan Marcus.
Want to reach out to James? Contact him at jamesm@roundabouttheatre.org